Abdullah (transliteration: ʿAbdullāh, Arabic: عبد الله) is an Arabic name for God that means "servant of God". The name is made up of the words ʿabd ("servant", "slave")1 and the Arabic word for God (Allah). Due to the way the Arabic language works, when pronouncing the name ʿabd Allah becomes ʿabdullah.
The name Abdullah is also spelled as Abdallah, Abdellah, Abd Allah, Abdollah, Abdola and Abdella, among others.
The phrase ʿAbdullāh is used twice in the Quran. The first usage is in verse 19:30:
He said, "I am the servant of God. He has given me the Scripture, and made me a prophet.
The second usage is in verse 72:19:
And when the servant of God got up calling on Him, they almost fell on him in a mass.
Abdullah was one of the most common Arabian names both before and after the coming of Islam. The father of Prophet Muhammad

was named Abdullah. The Prophet also had 699 Companions by the name of Abdullah. Their full names are listed at the bottom of this article.
Below is the name Abdullah written in Arabic naskh script: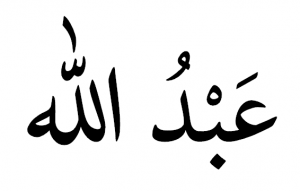 Below is the name Abdullah written in Arabic kufi script:
Below is the list of Companions of the Prophet Muhammad

named Abdullah:
Abdullah bin Ibrahim al-Ansari عبد الله بن إبراهيم الأنصاري
Abdullah bin Abi Ahmad bin Jahsh عبد الله بن أبي أحمد بن جحش
Abdullah bin Abi Hadrad al-Aslami عبد الله بن أبي حدرد الأسلمي
Abdullah bin al-Akhram bin Saidan عبد الله بن الأخرم بن سيدان
Abdullah bin al-Adra` عبد الله بن الأدرع
Abdullah bin Arta'ah عبد الله بن أرطأة
Abdullah bin al-Arqam عبد الله بن الأرقم
Abdullah bin Uraiqit عبد الله بن أريقط
Abdullah bin Ishaq al-A`raj عبد الله بن إسحاق الأعرج
Abdullah bin Abi al-Asad عبد الله بن أبي الأسد
Abdullah bin As`ad bin Zurarah al-Ansari عبد الله بن أسعد بن زرارة الأنصاري
Abdullah bin al-Asqa` al-Laithi عبد الله بن الأسقع الليثي
Abdullah bin Aslam bin Zayd عبد الله بن أسلم بن زيد
Abdullah bin al-Aswad عبد الله بن الأسود
Abdullah bin al-Aswad al-Sadusi عبد الله بن الأسود السدوسي
Abdullah bin Asyad al-Khawalani عبد الله بن أسيد الخولاني
Abdullah bin Asyad al-Thaqafi عبد الله بن أسيد الثقفي
Abdullah bin Asyad bin Rifaa`ah al-Aslami عبد الله بن أسيد بن رفاعة الأسلمي
Abdullah bin Ashamah al-Habashi عبد الله بن أصحمة الحبشي
Abdullah bin Asram bin Amr عبد الله بن أصرم بن عمرو
Abdullah al-Asghar عبد الله الأصغر
Abdullah bin Al-A`war عبد الله بن الأعور
Abdullah bin Aqram عبد الله بن أقرم
Abdullah bin al-Aqmar عبد الله بن الأقمر
Abdullah bin al-Akbar عبد الله بن الأكبر
Abdullah bin Abi Umamah عبد الله بن أبي أمامة
Abdullah bin Abi Umayyah عبد الله بن أبي أمية
Abdullah bin Abi Umayyah 2 عبد الله بن أبي أمية آخر
Abdullah bin Umayyah bin Wahb al-Asadi عبد الله بن أمية بن وهب الأسدي
Abdullah bin Umayyah bin Zayd al-Ansari عبد الله بن أمية بن زيد الأنصاري
Abdullah bin Anas al-Azdi عبد الله بن أنس الأزدي
Abdullah bin Anees عبد الله بن أنيس
Abdullah bin Anees al-Salami عبد الله بن أنيس السلمي
Abdullah bin Anees bin al-Muntafiq عبد الله بن أنيس بن المنتفق
Abdullah bin Aneesah al-Aslami عبد الله بن أنيسة الأسلمي
Abdullah bin Abi Aneesah عبد الله بن أبي أنيسة
Abdullah bin Anees al-Juhani عبد الله بن أنيس الجهني
Abdullah bin Abi Awfaa عبد الله بن أبي أوفى
Abdullah bin Uhaib عبد الله بن أهيب
Abdullah bin Aws عبد الله بن أوس
Abdullah bin Aws bin Hudhaifah al-Thaqafi عبد الله بن أوس بن حذيفة الثقفي
Abdullah bin Aws bin Waqsh عبد الله بن أوس بن وقش
Abdullah bin Buhainah عبد الله بن بُحينة
Abdullah bin Badr bin Zayd عبد الله بن بدر بن زيد
Abdullah bin Badr عبد الله بن بدر
Abdullah bin Budail bin Warqaa' al-Khuza`i عبد الله بن بديل بن ورقاء الخزاعي
Abdullah bin Budail عبد الله بن بديل
Abdullah bin Baraa' al-Dari عبد الله بن براء الداري
Abdullah bin al-Baraa' عبد الله بن البراء
Abdullah bin Burair عبد الله بن برير
Abdullah bin Bisr al-Mazini عبد الله بن بسر المازني
Abdullah bin Tha`labah bin Khuzaimah al-Ansari عبد الله بن ثعلبة بن خزيمة الأنصاري
Abdullah bin Tha`labah bin Su`air عبد الله بن ثعلبة بن صعير
Abdullah bin Tha`labah al-Harithi عبد الله بن ثعلبة الحارثي
Abdullah bin Bisr al-Nasri عبد الله بن بسر النصري
Abdullah al-Bakri عبد الله البكري
Abdullah bin Bakr bin Hadlam al-Asadi عبد الله بن بكر بن حدلم الأسدي
Abdullah bin Abi Bakr bin Rabee`ah al-Sa`di عبد الله بن أبي بكر بن ربيعة السعدي
Abdullah bin Bughail عبد الله بن بغيل
Abdullah bin Abi Bakr al-Siddiq عبد الله بن أبي بكر الصديق
Abdullah al-Tamimi عبد الله التميمي
Abdullah bin al-Taihan عبد الله بن التيهان
Abdullah bin Thabit al-Ansari عبد الله بن الثابت الأنصاري
Abdullah bin Thabit al-Ansari عبد الله بن ثابت الأنصاري
Abdullah bin Thabit bin al-Jad` al-Ansari عبد الله بن ثابت بن الجدع الأنصاري
Abdullah bin Thabit bin Utaik al-Azdi عبد الله بن ثابت بن عتيك الأزدي
Abdullah bin Thabit bin Fakih al-Ansari عبد الله بن ثابت بن فاكه الأنصاري
Abdullah bin Thabit al-Ansari عبد الله بن ثابت الأنصاري
Abdullah bin Thabit bin Qais bin Shamas al-Ansari عبد الله بن ثابت بن قيس بن شماس الأنصاري
Abdullah bin Tha`labah al-Adhri عبد الله بن ثعلبة العذري
Abdullah al-Thaqafi father of Sufyan عبد الله الثقفي والد سفيان
Abdullah bin Tha`labah bin Su`air عبد الله بن ثعلبة بن صعير
Abdullah al-Thamali عبد الله الثمالي
Abdullah bin Thawb عبد الله بن ثوب
Abdullah bin Thawr bin Mu`awiyah al-Bakaa'i عبد الله بن ثور بن معاوية البكائي
Abdullah bin Thawr from Bani Ghawth عبد الله بن ثور من بني غوث
Abdullah bin Jabir al-Ansari al-Bayazi عبد الله بن جابر الأنصاري البياضي
Abdullah bin Jabir al-Abdi عبد الله بن جابر العبدي
Abdullah bin Jabr bin Utaik al-Ansari عبد الله بن جبر بن عتيك الأنصاري
Abdullah bin Jubair عبد الله بن جبير
Abdullah bin Jubair al-Ansari عبد الله بن جبير الأنصاري
Abdullah bin Jubair al-Khuza`i عبد الله بن جبير الخزاعي
Abdullah bi Jahsh عبد الله بن جحش
Abdullah bin Jahsh 2 عبد الله بن جحش آخر
Abdullah bin al-Jad عبد الله بن الجد
Abdullah bin Jad`an عبد الله بن جدعان
Abdullah bin Abi al-Jadh`aa' al-Abdi عبد الله بن أبي الجذعاء العبدي
Abdullah bin Jarad bin al-Muntafiq عبد الله بن جراد بن المنتفق
Abdullah bin Jaz' bin Anas bin Aamir al-Salami عبد الله بن جزء بن أنس بن عامر السلمي
Abdullah bin Ja`far bin Abi Talib عبد الله بن جعفر بن أبي طالب
Abdullah bin Abi Jamrah al-Yarbu`i عبد الله بن أبي جمرة اليربوعي
Abdullah bin Jameel عبد الله بن جميل
Abdullah bin Jahm al-Ansari عبد الله بن جهم الأنصاري
Abdullah bin Abi al-Jahm عبد الله بن أبي الجهم
Abdullah bin Hajib عبد الله بن حاجب
Abdullah bin al-Harith Abu Ishaq عبد الله بن الحارث أبو اسحاق
Abdullah bin al-Harith bin Umayyah عبد الله بن الحارث بن أمية
Abdullah bin al-Harith bin Aws al-Thaqafi عبد الله بن الحارث بن أوس الثقفي
Abdullah bin al-Harith al-Bahili عبد الله بن الحارث الباهلي
Abdullah bin al-Harith bin Jaz' al-Zubaidi عبد الله بن الحارث بن جزء الزبيدي
Abdullah bin al-Harith bin Khaldah al-Thaqafi عبد الله بن الحارث بن خلدة الثقفي
Abdullah bin al-Harith bin Abi Rabee`ah al-Makhzumi عبد الله بن الحارث بن أبي ربيعة المخزومي
Abdullah bin al-Harith Abu Rifaa`ah al-Adawi عبد الله بن الحارث أبو رفاعة العدوي
Abdullah bin al-Harith bin Zayd عبد الله بن الحارث بن زيد
Abdullah bin al-Harith bin Zayd bin Safwan عبد الله بن الحارث بن زيد بن صفوان
Abdullah bin al-Harith al-Sadaa'i عبد الله بن الحارث الصدائي
Abdullah al-Harith bin Abi Dhirar عبد الله بن الحارث بن أبي ضرار
Abdullah bin Dhamrah al-Bajali عبد الله بن ضمرة البجلي
Abdullah bin al-Harith bin Abd al-Uzzaa عبد الله بن الحارث بن عبد العزى
Abdullah bin al-Harith bin Abd al-Mutallib bin Hashim عبد الله بن الحارث بن عبد المطلب بن هاشم
Abdullah bin al-Harith bin Amr عبد الله بن الحارث بن عمرو
Abdullah bin al-Harith bin Umair عبد الله بن الحارث بن عمير
Abdullah bin al-Harith عبد الله بن الحارث
Abdullah bin al-Harith bin Qais al-Ansari عبد الله بن الحارث بن قيس الأنصاري
Abdullah bin al-Harith bin Qais al-Qarashi al-Sahmi عبد الله بن الحارث بن قيس القرشي السهمي
Abdullah bin al-Harith bin Katheer عبد الله بن الحارث بن كثير
Abdullah bin al-Harith bin Ma`mar عبد الله بن الحارث بن معمر
Abdullah bin al-Harith bin Nawfal عبد الله بن الحارث بن نوفل
Abdullah bin al-Harith bin Hisham bin al-Mugheerah عبد الله بن الحارث بن هشام بن المغيرة
Abdullah bin al-Harith bin Haishah bin al-Harith عبد الله بن الحارث بن هيشة بن الحارث
Abdullah bin al-Harith bin Ya`mar عبد الله بن الحارث بن يعمر
Abdullah bin al-Harith bin al-Bahili عبد الله بن الحارث بن الباهلي
Abdullah bin al-Harith bin Warqaa' al-Asadi عبد الله بن الحارث بن ورقاء الأسدي
Abdullah bin Harithah bin al-Nu`man al-Ansari عبد الله بن حارثة بن النعمان الأنصاري
Abdullah bin Haazim عبد الله بن حازم
Abdullah bin Habashi عبد الله بن حبشي
Abdullah bin Habeeb al-Aslami عبد الله بن حبيب الأسلمي
Abdullah bin Habeeb 2 عبد الله بن حبيب آخر
Abdullah bin Habeeb عبد الله بن حبيب
Abdullah bin Abi Habeebah عبد الله بن أبي حبيبة
Abdullah bin al-Hajjaj al-Thumali عبد الله بن الحجاج الثمالي
Abdullah bin Hadq عبد الله بن حدق
Abdullah bin Abi Hadrad عبد الله بن أبي حدرد
Abdullah bin Hudhafah عبد الله بن حذافة
Abdullah bin Haram عبد الله بن حرام
Abdullah bin Umm Haram عبد الله بن أم حرام
Abdullah bin al-Har al-Ansi عبد الله بن الحر العنسي
Abdullah bin Harmalah al-Madlaji عبد الله بن حرملة المدلجي
Abdullah bin Huraith al-Bakri عبد الله بن حريث البكري
Abdullah bin Huzabah عبد الله بن حزابة
Abdullah bin Hazn عبد الله بن حزن
Abdullah bin Abi al-Hasmaa' al-Aamiri عبد الله بن أبي الحسماء العامري
Abdullah bin al-Hasan عبد الله بن الحسن
Abdullah bin Hisn al-Darimi Abu Madeenah عبد الله بن حصن الدارمي أبو مدينة
Abdullah bin Hisn bin Sahl عبد الله بن حصن بن سهل
Abdullah bin al-Husaib al-Aslami عبد الله بن الحصيب الأسلمي
Abdullah bin al-Haseen عبد الله بن الحصين
Abdullah bin Hafs عبد الله بن حفص
Abdullah bin Haq bin Aws bin Waqsh عبد الله بن حق بن أوس بن وقش
Abdullah ibn Hakal al-Azdi عبد الله بن حكل الأزدي
Abdullah bin Hakeem al-Juhani عبد الله بن حكيم الجهني
Abdullah bin Hakeem al-Kinani عبد الله بن حكيم الكناني
Abdullah bin Hakeem bin Hizam al-Qarashi al-Asadi عبد الله بن حكيم بن حزام القرشي الأسدي
Abdullah bin Hakeem al-Dhubi عبد الله بن حكيم الضبي
Abdullah bin Abi al-Hamsaa' al-Aamiri عبد الله بن أبي الحمساء العامري
Abdullah bin Himyar al-Ashja`i عبد الله بن حمير الأشجعي
Abdullah bin Hantab bin al-Harith عبد الله بن حنطب بن الحارث
Abdullah bin Handhalah al-Ghusail عبد الله بن حنظلة الغسيل
Abdullah bin Hunain bin Asad عبد الله بن حنين بن أسد
Abdullah bin Hawalah عبد الله بن حوالة,Abdullah bin Hawlaa عبد الله بن حولى
Abdullah bin Khazim عبد الله بن خازم
Abdullah bin Khalid عبد الله بن خالد
Abdullah bin Khalid bin Sa`d عبد الله بن خالد بن سعد
Abdullah bin Khalid bin Urwah عبد الله بن خالد بن عروة
Abdullah bin Khalid bin al-Waleed bin al-Mugheerah al-Makhzumi عبد الله بن خالد بن الوليد بن المغيرة المخزومي
Abdullah bin Abi Khalid bin Qais عبد الله بن أبي خالد بن قيس
Abdullah bin Khabab bin al-Art al-Tamimi عبد الله بن خباب بن الأرت التميمي
Abdullah bin Khubaib عبد الله بن خبيب
Abdullah bin Khubaib al-Juhani عبد الله بن خبيب الجهني
Abdullah al-Khath`ami عبد الله الخثعمي
Abdullah bin al-Khurait al-Bakri عبد الله بن الخريت البكري
Abdullah bin Khalf al-Khuza`i عبد الله بن خلف الخزاعي
Abdullah bin Abi Half al-Qarashi al-Jamhi عبد الله بن أبي حلف القرشي الجمحي
Abdullah bin Khalaf عبد الله بن خلف
Abdullah bin Khaleefah al-Bawlani al-Taa'i عبد الله بن خليفة البولاني الطائي
Abdullah bin Khaleefah عبد الله بن خليفة
Abdullah bin Khanees al-Aamiri عبد الله بن خنيس العامري
Abdullah al-Khawlani عبد الله الخولاني
Abdullah bin Abi Khawlaa عبد الله بن أبي خولى
Abdullah bin Abi Khaithamah al-Awsi عبد الله بن أبي خيثمة الأوسي
Abdullah bin Khaithamah al-Saalimi عبد الله بن خيثمة السالمي
Abdullah bin Khaithamah bin Qais عبد الله بن خيثمة بن قيس
Abdullah Dara slave of Uthman عبد الله دارة مولى عثمان
Abdullah bin Diyad عبد الله بن دياد
Abdullah bin al-Dayan عبد الله بن الديان
Abdullah bin Dhubab عبد الله بن ذباب
Abdullah bin Dhar عبد الله بن ذر
Abdullah bin Dharrah عبد الله بن ذرة
Abdullah Dhul Bajadin al-Muzani عبد الله ذو البجادين المزني
Abdullah Dhul Tamrin عبد الله ذو الطمرين
Abdullah bin Rashid al-Kindi عبد الله بن راشد الكندي
Abdullah bin Raafi` bin Suwaid عبد الله بن رافع بن سويد
Abdullah bin Rabab عبد الله بن رباب
Abdullah bin Rabab 2 عبد الله بن رباب آخر
Abdullah bin al-Rubayyi` عبد الله بن الربيّع
Abdullah bin Abi Rabee`ah عبد الله بن أبي ربيعة
Abdullah bin Abi Rabee`ah al-Thaqafi عبد الله بن أبي ربيعة الثقفي
Abdullah bin Rabee`ah bin al-Aghfal عبد الله بن ربيعة بن الاغفل
Abdullah bin Rabee`ah bin al-Harith bin Abd al-Mutallib al-Hashimi عبد الله بن ربيعة بن الحارث بن عبد المطلب الهاشمي
Abdullah bin Rabee`ah عبد الله بن ربيعة
Abdullah bin Rabee`ah bin al-Akhram عبد الله بن ربيعة بن الأخرم
Abdullah bin Rabee`ah al-Numairi Abu Yazeed عبد الله بن ربيعة النميري أبو يزيد
Abdullah bin Rubai`ah عبد الله بن رُبيعة
Abdullah bin Rizq al-Makhzumi عبد الله بن رزق المخزومي
Abdullah bin Rajaa' عبد الله بن رجاء
Abdullah bin Rifaa`ah bin Raafi` al-Zarqi عبد الله بن رفاعة بن رافع الزرقي
Abdullah bin Rufai` al-Salami عبد الله بن رفيع السلمي
Abdullah bin Abi Rahm عبد الله بن أبي رهم
Abdullah bin Rawahah عبد الله بن رواحة
Abdullah bin Rawah عبد الله بن رواح
Abdullah bin Ru'bah bin Lubaid عبد الله بن رؤبة بن لبيد
Abdullah bin Abi Ruman al-Katib عبد الله بن أبي رومان الكاتب
Abdullah bin Zaa'idah عبد الله بن زائدة
Abdullah bin al-Zab`ari عبد الله بن الزبعري
Abdulah bin Zubaib al-Jundi عبد الله بن زبيب الجندي
Abdullah bin al-Zubair al-Asadi عبد الله بن الزبير الأسدي
Abdullah bin al-Zubair bin Abd al-Mutallib al-Hashimi عبد الله بن الزبير بن عبد المطلب الهاشمي
Abdullah bin al-Zubair al-Hameedi عبد الله بن الزبير الحميدي
Abdullah bin al-Zubair bin al-Awwam عبد الله بن الزبير بن العوام
Abdullah bin Zaghb al-Ayadi عبد الله بن زغب الايادي
Abdullah bin Zam`ah bin al-Aswad عبد الله بن زمعة بن الأسود
Abdullah bin Zumal al-Juhani عبد الله بن زمل الجهني
Abdullah bin Abi Zuhair عبد الله بن أبي زهير
Abdullah bin Zuhair عبد الله بن زهير
Abdullah bin Ziyad bin Amr عبد الله بن زياد بن عمرو
Abdullah bin Zayd عبد الله بن زيد
Abdullah bin Zayd al-Juhani عبد الله بن زيد الجهني
Abdullah bin Zayd عبد الله بن زيد
Abdullah bin Zayd bin Safwan عبد الله بن زيد بن صفوان
Abdullah bin Zayd al-Dhumari عبد الله بن زيد الضمري
Abdullah bin Zayd bin Aasim عبد الله بن زيد بن عاصم
Abdullah bin Zayd عبد الله بن زيد
Abdullah bin Zayd 2 عبد الله بن زيد آخر
Abdullah bin Zayd 3 عبد الله بن زيد آخر
Abdullah bin Zayd al-Kindi al-Duraiki عبد الله بن زيد الكندي الدريكي
Abdullah bin Zayd al-Kindi 2 عبد الله بن زيد الكندي آخر
Abdullah bin Zayd al-Mazini al-Bukhari عبد الله بن زيد المازني البخاري
Abdullah bin Basit عبد الله بن سابط
Abdullah bin Saa`idah عبد الله بن ساعدة
Abdullah bin Saa`idah al-Hudhali عبد الله بن ساعدة الهذلي
Abdullah bin Saalim عبد الله بن سالم
Abdullah bin al-Saa'ib bin Asad bin Abi Hubaish عبد الله بن السائب بن أسد بن أبي حبيش
Abdullah bin al-Saa'ib عبد الله بن السائب
Abdullah bin al-Saa'ib bin Abi al-Saa'ib عبد الله بن السائب بن أبي السائب
Abdullah bin Sabaa` عبد الله بن سباع
Abdullah bin Sabrah al-Harashi عبد الله بن سبرة الحرشي
Abdullah bin Sabrah al-Juhani عبد الله بن سبرة الجهني
Abdullah bin Sabrah al-Hamadani عبد الله بن سبرة الهمداني
Abdullah bin Sabrah al-Qarashi عبد الله بن سبرة القرشي
Abdullah bin Abi Sabqah عبد الله بن أبي سبقة
Abdulah al-Sadusi عبد الله السدوسي
Abdullah bin Abi Sudaid عبد الله بن أبي سديد
Abdullah bin Suraqah عبد الله بن سراقة
Abdullah bin Suraqah al-Azdi عبد الله بن سراقة الأزدي
Abdullah bin Sarjas al-Muzani عبد الله بن سرجس المزني
Abdullah bin Sa`d al-Azdi al-Saami عبد الله بن سعد الأزدي السامي
Abdullah bin Sa`d al-Aslami عبد الله بن سعد الأسلمي
Abdullah bin Sa`d al-Ansari عبد الله بن سعد الأنصاري
Abdullah bin Sa`d bin al-Atwal عبد الله بن سعد بن الأطول
Abdullah bin Sa`d bin Aws عبد الله بن سعد بن أوس
Abdullah bin Sa`d bin Jabir عبد الله بن سعد بن جابر
Abdullah bin Sa`d bin Khawli عبد الله بن سعد بن خولي
Abdullah bin Sa`d bin Khaithamah عبد الله بن سعد بن خيثمة
Abdullah bin Sa`d bin Zurarah عبد الله بن سعد بن زرارة
Abdullah bin Sa`d bin Abi Sarh عبد الله بن سعد بن أبي سرح
Abdullah bin Sa`d bin Rabee`ah عبد بن سعد بن ربيعة
Abdullah bin Sa`d عبد الله بن سعد
Abdullah bin Sa`d bin Sufyan bin Khalid عبد الله بن سعد بن سفيان بن خالد
Abdullah bin Sa`d bin Mari عبد الله بن سعد بن مري
Abdullah bin Sa`d bin Mu`adh al-Ashhali عبد الله بن سعد بن معاذ الأشهلي
Abdullah bin al-Sa`di عبد الله بن السعدي
Abdullah bin Sa`eed bin Thabit عبد الله بن سعيد بن ثابت
Abdullah bin Sa`eed bin al-Aas عبد الله بن سعيد بن العاص
Abdullah bin Sufyan al-Azdi عبد الله بن سفيان الأزدي
Abdullah bin Abi Sufyan bin al-Harith عبد الله بن أبي سفيان بن الحارث
Abdullah bin Sufyan عبد الله بن سفيان
Abdullah bin Sufyan bin Abd al-Asad عبد الله بن سفيان بن عبد الأسد
Abdullah bin Salam عبد الله بن سلام
Abdullah bin Salaamah عبد الله بن سلامة
Abdullah bin Salamah bin Malik عبد الله بن سلمة بن مالك
Abdullah bin Salamah bin Abi al-Khair عبد الله بن سلمة بن أبي الخير
Abdullah bin Salamah al-Ajlani al-Balawi عبد الله بن سلمة العجلاني البلوي
Abdullah bin Salamah al-Muradi عبد الله بن سلمة المرادي
Abdullah bin Salamah al-Hamadani عبد الله بن سلمة الهمداني
Abdullah bin Abi Salamah عبد الله بن أبي سلمة
Abdullah ibn Abi Sulait عبد الله بن أبي سليط
Abdullah bin Sulaim bin Ukaimah al-Laithi عبد الله بن سليم بن أكيمة الليثي
Abdullah bin Sinan bin Amr عبد الله بن سنان بن عمرو
Abdullah bin Sandar عبد الله بن سندر
Abdullah bin Sinan عبد الله بن سنان
Abdullah bin Sandar al-Judhami عبد الله بن سندر الجذامي
Abdullah bin Sahl bin Raafi` عبد الله بن سهل بن رافع
Abdullah bin Sahl bin Zayd عبد الله بن سهل بن زيد
Abdullah bin Sahl bin Hunaif al-Ansari عبد الله بن سهل بن حنيف الأنصاري
Abdullah bin Sahl or Suhail عبد الله بن سهل أو سهيل
Abdullah bin Sahl bin Qardhah al-Ansari عبد الله بن سهل بن قرظة الأنصاري
Abdullah bin Suhail bin Amr bin Abd Shams عبد الله بن سهيل بن عمرو بن عبد شمس
Abdullah bin Sawar عبد الله بن سوار
Abdullah bin Suwaid عبد الله بن سويد
Abdullah bin Saidan al-Salami al-Matrudi عبد الله بن سيدان السلمي المطرودي
Abdullah bin Sailan عبد الله بن سيلان
Abdullah bin al-Shabab عبد الله بن الشباب
Abdullah bin Shubail عبد الله بن شبيل
Abdullah bin Shibl bin Amr al-Ansari عبد الله بن شبل بن عمرو الأنصاري
Abdullah bin al-Shukhair bin Awf bin Ka`b عبد الله بن الشخير بن عوف بن كعب
Abdullah bin Sharhabeel عبد الله بن شرحبيل
Abdullah bin Shuraih عبد الله بن شريح
Abdullah bin Shuraik عبد الله بن شريك
Abdullah bin Shu`aib عبد الله بن شعيب
Abdullah bin Shafi عبد الله بن شفي
Abdullah bin Shuqair عبد الله بن شقير
Abdullah bin Shimr عبد الله بن شمر
Abdullah bin Shihab bin Abdullah عبد الله بن شهاب بن عبد الله
Abdullah bin Shihab bin Abdullah bin al-Harith عبد الله بن شهاب بن عبد الله بن الحارث
Abdullah bin Shihab al-Khawlani عبد الله بن شهاب الخولاني
Abdullah bin Abi Shakh al-Muharibi عبد الله بن أبي شخ المحاربي
Abdullah bin Saa'id عبد الله بن صائد
Abdullah bin Safwan bin Umayyah عبد الله بن صفوان بن أمية
Abdullah bin Safwan bin Qudamah al-Tamimi عبد الله بن صفوان بن قدامة التميمي
Abdullah bin Safwan عبد الله بن صفوان
Abdullah bin safwan al-Khuza`i عبد الله بن صفوان الخزاعي
Abdullah bin Safwan عبد الله بن صفوان
Abdullah bin al-Sadafi عبد الله بن الصدفي
Abdullah bin Sard al-Jashmi عبد الله بن صرد الجشمي
Abdullah bin Sa`sa`ah bin Wahb عبد الله بن صعصعة بن وهب
Abdullah al-Sunabihi عبد الله الصنابحي
Abdulah bin Surya عبد الله بن صوريا
Abdullah bin Saifi bin Wabrah عبد الله بن صيفي بن وَبْرة
Abdullah bin Dhimar عبد الله بن ضمار
Abdullah bin Dhamrah عبد الله بن ضمرة
Abdullah bin Taariq عبد الله بن طارق
Abdullah bin Tawoos عبد الله بن طاووس
Abdullah bin al-Tufail عبد الله بن الطفيل
Abdullah bin al-Tufail al-Azadi عبد الله بن الطفيل الأزدي
Abdullah bin Tahfah al-Ghaffari عبد الله بن طهفة الغفاري
Abdullah bin Abi Talhah عبد الله بن أبي طلحة
Abdullah bin Aamir al-Balawi عبد الله بن عامر البلوي
Abdullah bin Aamir عبد الله بن عامر
Abdullah bin Aamir al-Fanadi bin Rabee`ah al-Akbar عبد الله بن عامر الفندي بن ربيعة الأكبر
Abdullah bin Aamir al-Anzi bin Rabee`ah al-Asghar عبد الله بن عامر العنزي بن ربيعة الأصغر
Abdullah bin Aamir bin Unais عبد الله بن عامر بن أنيس
Abdullah bin Aamir al-Balawi عبد الله بن عامر البلوي
Abdullah bin Aamir al-Salmani عبد الله بن عامر السلماني
Abdullah bin Aamir bin Luwaim عبد الله بن عامر بن لويم
Abdullah bin Aamir عبد الله بن عامر
Abdullah bin Aamir bin Kuraiz عبد الله بن عامر بن كريز
Abdullah bin Aa'idh al-Thumali عبد الله بن عائذ الثُّمالي
Abdullah bin Aa'idh bin Qurt عبد الله بن عائذ بن قرط أو ابن قريط
Abdullah bin Aabas عبد الله بن عباس
Abdullah bin Abbas bin Alqamah عبد الله بن عباس بن علقمة
Abdullah bin Abd al-Asad bin Hilal عبد الله بن عبد الأسد بن هلال
Abdullah bin Abdullah bin Abi Umayyah al-Makhzumi عبد الله بن عبد الله بن أبي أمية المخزومي
Abdullah bin Abdullah bin Thabit عبد الله بن عبد الله بن ثابت
Abdullah bin Abdullah bin Atban al-Amawi al-Ansari عبد الله بن عبد الله بن عتبان الأموي الأنصاري
Abdullah bin Abdullah bin Uthman عبد الله بن عبد الله بن عثمان
Abdullah bin Abi Malik عبد الله بن أبي مالك
Abdullah bin Abd bin Uthman عبد الله بن عبد الله بن عثمان
Abdullah bin Abi Malik عبد الله بن أبي مالك
Abdullah bin Abdullah al-Mazini عبد الله بن عبد الله المازني
Abdullah bin Abd al-Khaliq عبد الله بن عبد الخالق
Abdullah bin Abd al-Rahman al-Ansari عبد الله بن عبد الرحمن الأنصاري
Abdullah bin Abdullah bin Suraqah عبد الله بن عبد الله بن سراقة
Abdullah bin Abdullah bin Aamir عبد الله بن عبد الله بن عامر
Abdullah bin Abdullah bin Utaiq عبد الله بن عبد الله بن عتيق
Abdullah bin Abdullah bin Abi al-Ansari عبد الله بن عبد الله بن أبي الأنصاري
Abdullah bin Uthman bin Aamir عبد الله بن عثمان بن عامر
Abdullah bin Abdullah bin Umar bin al-Khattab عبد الله بن عبد الله بن عمر بن الخطاب
Abdullah bin Abdullah bin Abi Malik عبد الله بن عبد الله بن أبي مالك
Abdullah bin Abd al-Uzzaa عبد الله بن عبد العزى
Abdullah bin Abdul Rahman al-Ansari عبد الله بن عبد الرحمن الأنصاري
Abdullah bin Abdul Rahman Abu Ruwaihah عبد الله بن عبد الرحمن أبو رويحة
Abdullah bin Abdul Rahman عبد الله بن عبد الرحمن
Abdullah bin Abd al-Uzzaa al-Salami عبد الله بن عبد العزى السلمي
Abdullah bin Abd al-Rahman al-Ashhali عبد الله بن عبد الرحمن الأشهلي
Abdullah bin Abdul Rahman bin Abi Bakr عبد الله بن عبد الرحمن بن أبي بكر
Abdullah bin Abdul Rahman عبد الله بن عبد الرحمن
Abdullah bin Abdul Rahman bin al-Awwam عبد الله بن عبد الرحمن بن العوام
Abdullah bin Abd عبد الله بن عبد
Abdullah bin Abdul Rahman bin Abi Husain عبد الله بن عبد الرحمن بن أبي حسين
Abdullah bin Abdul Rahman bin Ya`laa عبد الله بن عبد الرحمن بن يعلى
Abdullah bin Abs عبد الله بن عبس
Abdullah slave of Asmaa عبد الله مولى أسماء
Abdullah bin Abd al-Ghafir عبد الله بن عبد الغافر
Abdullah bin Abd al-Madan عبد الله بن عبد المدان
Abdullah bin Abd al-Madan 2 عبد الله بن عبد المدان آخر
Abdullah bin Abd al-Malik al-Ghaffari عبد الله بن عبد الملك الغفاري
Abdullah bin Abd Manaf bin al-Nu`man عبد الله بن عبد مناف بن النعمان
Abdullah bin Abd Nahm bin Afeef عبد الله بن عبد نهم بن عفيف
Abdullah bin Abd bin Hilal al-Ansari عبد الله بن عبد بن هلال الأنصاري
Abdullah bin Abd عبد الله بن عبد
Abdullah bin Ubaid عبد الله بن عبيد
Abdullah bin Ubaidullah bin Abdullah bin Abi Mulaikah عبد الله بن عبيد الله بن عبد الله بن أبي مليكة
Abdullah bin Atban al-Ansari عبد الله بن عتبان الأنصاري
Abdullah bin Atban al-Ansari 2 عبد الله بن عتبان الأنصاري
Abdullah bin Utbah al-Dhakwani Abu Qais عبد الله بن عتبة الذكواني أبو قيس
Abdullah bin Utbah عبد الله بن عتبة
Abdullah bin Utbah al-Ansari عبد الله بن عتبة الأنصاري
Abdullah bin Utbah from Bani Nufail عبد الله بن عتبة من بني نفيل
Abdullah bin Utaik bin Qais عبد الله بن عتيك بن قيس
Abdullah bin Uthman al-Tamimi عبد الله بن عثمان التميمي
Abdullah bin Uthman al-Thaqafi عبد الله بن عثمان الثقفي
Abdullah bin Uthman bin Khuthaim عبد الله بن عثمان بن خُثيم
Abdullah bin Uthman bin Abi Sulaiman عبد الله بن عثمان بن أبي سليمان
Abdullah bin Uthman bin Abdullah bin Rabee`ah عبد الله بن عثمان بن عبد الله بن ربيعة
Abdullah bin Uthman al-Asadi عبد الله بن عثمان الأسدي
Abdullah bin Uthman bin Aamir عبد الله بن عثمان بن عامر
Abdullah bin Uthman bin Affan عبد الله بن عثمان بن عفان
Abdullah bin Ajrah al-Salami عبد الله بن عجرة السلمي
Abdullah al-Adawi عبد الله العدوي
Abdullah bin Adi bin al-Hamraa' عبد الله بن عدي بن الحمراء
Abdullah bin Adi al-Ansari عبد الله بن عدي الأنصاري
Abdullah bin Adi bin al-Khayar al-Nawfali عبد الله بن عدي بن الخيار النوفلي
Abdullah bin Udais al-Balawi عبد الله بن عديس البلوي
Abdullah bin Urabah al-Juhani عبد الله بن عرابة الجهني
Abdullah bin Arfajah al-Salimi عبد الله بن عرفجة السالمي
Abdullah bin Urfutah bin Adi bin Umayyah عبد الله بن عرفطة بن عدي بن أمية
Abdullah Abu Isam al-Muzani عبد الله أبو عصام المزني
Abdullah bin Isam al-Ash`ari عبد الله بن عصام الأشعري
Abdullah bin Abi Uqail al-Thaqafi عبد الله بن أبي عقيل الثقفي
Abdullah bin Akbarah عبد الله بن عكبرة
Abdullah bin Ukaim al-Juhani عبد الله بن عكيم الجهني
Abdullah bin Alqamah bin Khalid عبد الله بن علقمة بن خالد
Abdullah bin Alqamah bin al-Mutallib عبد الله بن علقمة بن المطلب
Abdullah bin Abi Ammar عبد بن أبي عمار
Abdullah bin Ammar عبد الله بن عمار
Abdullah bin Umar al-Jarami عبد الله بن عمر الجرمي
Abdullah bin Amr عبد الله بن عمرو
Abdullah bin Umar bin al-Khattab عبد الله بن عمر بن الخطاب
Abdullah bin Amr bin al-Ahwas al-Azdi عبد الله بن عمرو بن الأحوص الأزدي
Abdullah bin Amr bin Bajrah عبد الله بن عمرو بن بجرة
Abdullah bin Amr bin Bulail عبد الله بن عمرو بن بليل
Abdullah bin Amr bin Jahsh al-Kinani عبد الله بن عمرو بن جحش الكناني
Abdullah bin Amr bin Haram bin Tha`labah عبد الله بن عمرو بن حرام بن ثعلبة
Abdullah bin Amr bin Hazm al-Ansari عبد الله بن عمرو بن حزم الأنصاري
Abdullah bin Amr bin al-Hadhrami عبد الله بن عمرو بن الحضرمي
Abdullah bin Amr bin Halhalah عبد الله بن عمرو بن حلحلة
Abdullah bin Amr bin Khalf al-Adawi عبد الله بن عمرو بن خلف العدوي
Abdullah bin Amr bin Ruwaim al-Muzani عبد الله بن عمرو بن رويم المزني
Abdullah bin Amr bin Zayd عبد الله بن عمرو بن زيد
Abdullah bin Amr bin Subai` al-Tha`labi عبد الله بن عمرو بن سبيع الثعلبي
Abdullah bin Umar bin Shuraih عبد الله بن عمرو بن شريح
Abdullah bin Umar bin al-Tufail al-Azadi عبد الله بن عمر بن الطفيل الأزدي
Abdullah bin Amr bin al-Aas عبد الله بن عمرو بن العاص
Abdullah bin Amr bin Awf عبد الله بن عمرو بن عوف
Abdullah bin Amr bin Qais bin Zayd عبد الله بن عمرو بن قيس بن زيد
Abdullah bin Amr al-Qari عبد الله بن عمرو القاري
Abdullah bin Amr al-Muzani عبد الله بن عمرو المزني
Abdullah bin Amr عبد الله بن عمرو
Abdullah bin Amr bin Mahs al-Ansari عبد الله بن عمرو بن محص الأنصاري
Abdullah bin Amr bin al-Mugheerah عبد الله بن عمرو بن المغيرة
Abdullah bin Amr bin Maleek al-Muzani عبد الله بن عمرو بن مليك المزني
Abdullah bin Amr bin Hilal al-Muzani عبد الله بن عمرو بن هلال المزني
Abdullah bin Amr bin Waqdan al-Sa`di عبد الله بن عمرو بن وقدان السعدي
Abdullah bin Amr bin Wahb عبد الله بن عمرو بن وهب
Abdullah bin Amr عبد الله بن عمرو
Abdullah bin Amr al-Jamhi عبد الله بن عمرو الجمحي
Abdullah bin Amr al-Dawsi عبد الله بن عمرو الدوسي
Abdullah bin Amr عبد الله بن عمرو
Abdullah bin Amr 2 عبد الله بن عمر آخر
Abdullah bin Amr al-Yashkari عبد الله بن عمرو اليشكري
Abdullah bin Umair al-Ashja`i عبد الله بن عمير الأشجعي
Abdullah bin Umamir al-Khatmi عبد الله بن عمير الخطمي
Abdullah bin Umair bin Harithah bin Tha`labah bin Khallas عبد الله بن عمير بن حارثة بن ثعلبة بن خَلّاس
Abdullah bin Umair al-Sadoosi عبد الله بن عمير السدوسي
Abdullah bin Umair bin Adi bin Umayyah عبد الله بن عمير بن عدي بن أمية
Abdullah bin Umair bin Qatadah al-Laithi عبد الله بن عمير بن قتادة الليثي
Abdullah bin Umairah bin Hisn عبد الله بن عميرة بن حصن
Abdullah bin Anbah عبد الله بن عنبة
Abdullah bin Anmah al-Muzani عبد الله بن عنمة المزني
Abdullah bin Anmah عبد الله بن عنمة
Abdullah bin Awsajah al-Arani عبد الله بن عوسجة العرني
Abdullah bin Awf bin Abd Awf al-Zuhari عبد الله بن عوف بن عبد عوف الزهري
Abdullah bin Awf al-Abdi عبد الله بن عوف العبدي
Abdullah bin Abi Awf عبد الله بن أبي عوف
Abdullah bin Uwaim bin Saa`idah عبد الله بن عويم بن ساعدة
Abdullah bin Ayyash al-Juhani عبد الله بن عياش الجهني
Abdullah bin Ayyash al-Ansari al-Zuraqi عبد الله بن عياش الأنصاري الزرقي
Abdullah bin Ayyash bin Abi Rabee`ah عبد الله بن عياش بن أبي ربيعة
Abdullah bin Isaa عبد الله بن عيسى
Abdullah bin Ghaalib al-Thaqafi al-Laithi عبد الله بن غالب الثقفي الليثي
Abdullah bin al-Ghusail عبد الله بن الغسيل
Abdullah bin Ghanam bin Aws عبد الله بن غنام بن أوس
Abdullah bin Fadhalah al-Laithi عبد الله بن فضالة الليثي
Abdullah bin Fadhalah al-Muzani عبد الله بن فضالة المزني
Abdullah bin Fairuz al-Dailami عبد الله بن فيروز الديلمي
Abdullah bin Qarib al-Thaqafi عبد الله بن قارب الثقفي
Abdullah bin Qatadah bin al-Nu`man al-Ansari al-Dhufari عبد الله بن قتادة بن النعمان الأنصاري الظفري
Abdullah bin Qudad عبد الله بن قداد
Abdullah bin Qudamah al-Uqaili عبد الله بن قدامة العقيلي
Abdullah bin Qudamah al-Sa`di عبد الله بن قدامة السعدي
Abdullah bin Abi Quhafah (also known as Abu Bakr al-Siddiq) عبد الله بن أبي قحافة يكنى أبي بكر الصديق
Abdullah bin Qurad عبد الله بن قُراد
Abdullah bin Qart al-Azdi al-Thumali عبد الله بن قرط الأزدي الثمالي
Abdullah bin Qurrah al-Azdi عبد الله بن قرة الأزدي
Abdullah bin Qurrah bin Nuhaik al-Hudhali عبد الله بن قرة بن نهيك الهذلي
Abdullah bin Qurrah عبد الله بن قرة
Abdullah bin Quraidh عبد الله بن قريظ
Abdullah bin Qumamah al-Salami عبد الله بن قمامة السلمي
Abdullah bin Qunai` al-Salami عبد الله بن قنيع السلمي
Abdullah bin Qais al-Aslami عبد الله بن قيس الأسلمي
Abdullah bin Qais al-Ansari عبد الله بن قيس الأنصاري
Abdullah bin Qais bin Khaldah عبد الله بن قيس بن خلدة
Abdullah bin Qais al-Khuza`i عبد الله بن قيس الخزاعي
Abdullah bin Qais bin Zaa'idah عبد الله بن قيس بن زائدة
Abdullah bin Qais bin Sulaim al-Ash`ari عبد الله بن قيس بن سليم الأشعري
Abdullah bin Qais al-Subahi عبد الله بن قيس الصباحي
Abdullah bin Qais bin Saifi عبد الله بن قيس بن صيفي
Abdullah bin Qais bin Surmah عبد الله بن قيس بن صرمة
Abdullah bin Qais bin Adi عبد الله بن قيس بن عدي
Abdullah bin Qais bin Ikrimah عبد الله بن قيس بن عكرمة
Abdullah bin Qais al-Qaini عبد الله بن قيس القيني
Abdullah bin Qais al-Kindi عبد الله بن قيس الكندي
Abdullah bin Qais bin Makhramah عبد الله بن قيس بن مخرمة
Abdullah bin Qais عبد الله بن قيس
Abdullah bin Qais 2 عبد الله بن قيس آخر
Abdullah bin Qais al-Hamadani al-Homsi عبد الله بن قيس الهمداني الحمصي
Abdullah bin Qaidhi عبد الله بن قيظي
Abdullah bin Abi Qais عبد الله بن أبي قيس
Abdullah bin Kamil عبد الله بن كامل
Abdullah bin Katheer عبد الله بن كثير
Abdullah bin Katheer al-Mazini عبد الله بن كثير المازني
Abdullah bin Karamah عبد الله بن كرامة
Abdullah bin Abi Karb عبد الله بن أبي كرب
Abdullah bin Kurz al-Laithi عبد الله بن كرز الليثي
Abdullah bin Kuraiz عبد الله بن كريز
Abdullah bin Ka`b عبد الله بن كعب
Abdullah bin Ka`b bin Zayd عبد الله بن كعب بن زيد
Abdullah bin Ka`b al-Himyari al-Azdi عبد الله بن كعب الحميري الأزدي
Abdullah bin Ka`b bin Amr bin Awf عبد الله بن كعب بن عمرو بن عوف
Abdullah bin Ka`b ibn Malik عبد الله بن كعب بن مالك
Abdullah bin Ka`b al-Muradi عبد الله بن كعب المرادي
Abdullah bin Kulaib bin Rabee`ah عبد الله بن كليب بن ربيعة
Abdullah bin Kaysabah al-Nahdi عبد الله بن كيسبة النهدي
Abdullah bin Lubaid bin Tha`labah عبد الله بن لبيد بن ثعلبة
Abdullah bin al-Latibah bin Tha`labah al-Azdi عبد الله بن اللتيبة بن ثعلبة الأزدي
Abdullah bin Lahi عبد الله بن لحي
Abdullah bin Luhaib bin al-Masrahi عبد الله بن لحيب بن المصرحي
Abdullah bin Abi Laylaa al-Ansari عبد الله بن أبي ليلى الأنصاري
Abdullah bin Maa'iz al-Tamimi عبد الله بن ماعز التميمي
Abdullah bin Ma`iz bin Malik al-Aslami عبد الله بن ماعز بن مالك الأسلمي
Abdullah bin Ma`iz bin Mujalid عبد الله بن ماعز بن مجالد
Abdullah bin Malik al-Arhabi عبد الله بن مالك الأرحبي
Abdullah bin Malik bin Asyad عبد الله بن مالك بن أسيد
Abdullah bin Malik al-Ansari al-Awsi عبد الله بن مالك الأنصاري الأوسي
Abdullah bin Malik bin Buhainah عبد الله بن مالك بن بحينة
Abdullah bin Malik al-Khath`ami عبد الله بن مالك الخثعمي
Abdullah bin Malik al-Absi عبد الله بن مالك العبسي
Abdullah bin Malik al-Ghamiqi عبد الله بن مالك الغامقي
Abdullah bin Malik bin al-Qashb عبد الله بن مالك بن القشب
Abdullah bin Malik bin Abi al-Qain عبد الله بن مالك بن أبي القين
Abdullah bin Malik Abu Kahil عبد الله بن مالك أبو كاهل
Abdullah bin Malik bin al-Mu`tim al-Absi عبد الله بن مالك بن المعتم العبسي
Abdullah bin Malik عبد الله بن مالك
Abdullah bin Mubshir al-Sa`di عبد الله بن مبشر السعدي
Abdullah bin Majma` عبد الله بن مجمع
Abdulah bin Muhsin al-Ansari عبد الله بن محصن الأنصاري
Abdullah bin Muhammad bin Salamah al-Ansari عبد الله بن محمد بن سلمة الأنصاري
Abdullah (son of Prophet Muhammad SAW) عبد الله بن محمد صلى الله عليه وسلم
Abdullah bin Muhammad from Yemen عبد الله بن محمد من يمن
Abdullah bin Muhaireez al-Jamhi عبد الله بن محيريز الجمحي
Abdullah bin Makhramah عبد الله بن مخرمة
Abdullah bin Makhmar Shami عبد الله بن مخمر شامي
Abdullah bin al-Madani عبد الله بن المدني
Abdullah bin Murai` عبد الله بن مريع
Abdullah bin Abi Mirdas عبد الله بن أبي مرداس
Abdullah bin Muraqa` عبد الله بن مرقع
Abdullah bin Abi Murrah عبد الله بن أبي مرة
Abdullah bin Murrah al-Aamiri عبد الله بن مرة العامري
Abdullah al-Muzani عبد الله المزني
Abdullah al-Muzani 2 عبد الله المزني آخر
Abdullah bin al-Muzain عبد الله بن المزين
Abdullah bin Musaafi` عبد الله بن مسافع
Abdullah bin Abi Mustaqih al-Bahili عبد الله بن أبي مستقه الباهلي
Abdullah bin Abi Masrooh عبد الله بن أبي مسروح
Abdullah bin al-Mustawrad al-Asadi عبد الله بن المستورد الأسدي
Abdullah bin al-Muswar عبد الله بن المسور
Abdullah bin Mas`adah bin Hikmah عبد الله بن مسعدة بن حكمة
Abdullah bin Mas`adah al-Fazari عبد الله بن مسعدة الفزاري
Abdullah bin Mas`ud bin Ghafil bin Habeeb عبد الله بن مسعود بن غافل بن حبيب
Abdullah bin Mas`ud al-Hudhali عبد الله بن مسعود الهذلي
Abdullah bin Mas`ud عبد الله بن مسعود
Abdullah bin Muslim عبد الله بن مسلم
Abdullah bin Muslim 2 عبد الله بن مسلم آخر
Abdullah bin Muslim 3 عبد الله بن مسلم آخر
Abdullah bin al-Muswar عبد الله بن المسور
Abdullah bin al-Musayyib عبد الله بن المسيب
Abdullah father of Isam al-Muzani عبد الله والد عصام المزني
Abdullah bin Matar Abu Raihanah عبد الله بن مطر أبو ريحانة
Abdullah bin al-Mutallib bin Hantab عبد الله بن المطلب بن حنطب
Abdullah bin al-Mutallb bin Azhar عبد الله بن المطلب بن أزهر
Abdullah bin Abi Mutrif al-Azdi عبد الله بن أبي مطرف الأزدي
Abdullah bin Mutee` bin al-Aswad عبد الله بن مطيع بن الأسود
Abdullah bin Madh`un al-Jamhi عبد الله بن مظعون الجمحي
Abdullah bin Mu`awiyah al-Bahili عبد الله بن معاوية الباهلي
Abdullah bin Mu`awiyah al-Ghadhiri عبد الله بن معاوية الغاضري
Abdullah bin Ma`bad bin al-Harith عبد الله بن معبد بن الحرث
Abdullah bin Mu`tib عبد الله بن معتب
Abdullah bin al-Mu`tim عبد الله بن المعتم
Abdullah bin Mu`tamar al-Kindi عبد الله بن معتمر الكندي
Abdullah bin Mu`ridh al-Bahili عبد الله بن معرض الباهلي
Abdullah bin Mu`qil al-Ansari عبد الله بن معقل الأنصاري
Abdullah bin al-Mu`mir al-Absi عبد الله بن المعمر العبسي
Abdullah bin Mu`eenah al-Sawa'i عبد الله بن معينة السوائي
Abdullah bin Mughaffal عبد الله بن مغفل
Abdullah bin al-Mughaffal bin Abd Nahm عبد الله بن المغفّل بن عبد نهم
Abdullah bin Mughaffal bin Muqrin al-Muzani عبد الله بن مغفل بن مقرن المزني
Abdullah bin Mughnim عبد الله بن مغنم
Abdullah bin al-Mugheerah bin Abi Burdah al-Kinani عبد الله بن المغيرة بن أبي بردة الكناني
Abdullah Abu al-Mugheerah عبد الله أبو المُغيرة
Abdullah bin al-Mugheerah bin al-Harith عبد الله بن المغيرة بن الحارث
Abdullah bin al-Miqdad عبد الله بن المقداد
Abdullah bin Muqrin al-Muzani عبد بن مقرن المزني
Abdullah bin Mukmil عبد الله بن مكمل
Abdullah bin Malad al-Ash`ari عبد الله بن ملاد الأشعري
Abdullah bin al-Muntafaq al-Yashkari عبد الله بن المنتفق اليشكري
Abdullah bin al-Muntafaq al-Aamiri عبد الله بن المنتفق العامري
Abdullah bin al-Mundhir عبد الله بن المنذر
Abdullah bin Minqar al-Qaisi عبد الله بن منقر القيسي
Abdullah bin Muneeb al-Azdi عبد الله بن منيب الأزدي
Abdullah bin Abi Maisarah عبد الله بن أبي ميسرة
Isaa bin Aamir عيسى بن عامر
Abdullah bin Naasikh عبد الله بن ناسخ
Abdullah bin Nabtal bin al-Harith al-Ansari عبد الله بن نبتل بن الحرث الأنصاري
Abdullah bin Abi Nujaih عبد الله بن أبي نجيح
Abdullah bin al-Nukham عبد الله بن النخام
Abdullah bin Nizar al-Absi عبد الله بن نزار العبسي
Abdullah bin al-Nadhr al-Salami عبد الله بن النضر السلمي
Abdullah bin Nadhlah al-Aslami عبد الله بن نضلة الأسلمي
Abdullah bin Nadhlah bin Malik عبد الله بن نضلة بن مالك
Abdullah bin Nadhlah al-Adawi عبد الله بن نضلة العدوي
Abdullah bin Nadhlah al-Kinani عبد الله بن نضلة الكناني
Abdullah bin al-Nu`man bin Baldhamah bin Khunas عبد الله بن النعمان بن بلذمة بن الخناس
Abdullah bin al-Nu`man bin Barzakh عبد الله بن النعمان بن برزخ
Abdullah bin Nu`aim al-Ashja`i عبد الله بن نعيم الأشجعي
Abdullah bin Nu`aim al-Ansari عبد الله بن نعيم الأنصاري
Abdullah bin Nu`aim bin al-Nuham عبد الله بن نعيم بن النحام
Abdullah bin Nufail عبد الله بن نفيل
Abdullah bin Nahshal bin Naafi` عبد الله بن نهشل بن نافع
Abdullah bin Nuhaik عبد الله بن نهيك
Abdullah bin Nawfal bin al-Harith عبد الله بن نوفل بن الحارث
Abdullah bin al-Nawahah عبد الله بن النواحة
Abdullah bin al-Had عبد الله بن الهاد
Abdullah bin Haani' bin Yazeed al-Harithi عبد الله بن هانئ بن يزيد الحارثي
Abullah bin Haani' al-Ash`ari عبد الله بن هانئ الأشعري
Abdullah bin al-Hubaib عبد الله بن الهبيب
Abdullah bin Hudaj al-Hanafi عبد الله بن هداج الحنفي
Abdullah bin al-Hudair عبد الله بن الهدير
Abdullah bin Hisham bin Zuhrah al-Taimi عبد الله بن هشام بن زهرة التيمي
Abdullah bin Hisham bin Zuhrah عبد الله بن هشام بن زهرة
Abdullah bin al-Haitham bin Abdullah عبد الله بن الهيثم بن عبد الله
Abdullah bin Haishah bin al-Nu`man عبد الله بن هيشة بن النعمان
Abdullah ibn Hilal bin Abdullah عبد الله بن هلال بن عبد الله
Abdullah bin Hilal al-Muzani عبد الله بن هلال المزني
Abdullah bin Humam al-Abdi عبد الله بن همام العبدي
Abdullah bin Hunad عبد الله بن هناد
Abdullah bin Hend عبد الله بن هند
Abdullah Abu Hurairah عبد الله أبو هريرة
Abdullah bin Wasil al-Salami عبد الله بن واصل السلمي
Abdullah bin Waqid عبد الله بن واقد
Abdullah bin Wa'il عبد الله بن وائل
Abdullah bin Abi Wada`ah bin Subairah عبد الله بن أبي وداعة بن صبيرة
Abdullah bin Wadee`ah bin Haram al-Ansari عبد الله بن وديعة بن حرام الأنصاري
Abdullah bin Warrah عبد الله بن ورّاح
Abdullah bin Warqaa' al-Asadi عبد الله بن ورقاء الأسدي
Abdllah bin Warqaa' bin Junadah al-Saluli عبد الله بن ورقاء بن جنادة السلولي
Abdullah bin Waqdan عبد الله بن وقدان
Abdullah bin al-Waleed bin al-Mugheerah عبد الله بن الوليد بن المغيرة
Abdullah bin Wahb al-Asadi عبد الله بن وهب الأسدي
Abdullah bin Wahb al-Aslami عبد الله بن وهب الأسلمي
Abdullah bin Wahb al-Dawsi عبد الله بن وهب الدوسي
Abdullah bin Wahb al-Raasi عبد الله بن وهب الراسي
Abdullah bin Wahb bin Zam`ah عبد الله بن وهب بن زمعة
Abdullah bin Wahb al-Zuhari ِعبد الله بن وهب الزهري
Abdullah bin Wahb al-Zuhari عبد الله بن وهب الزهري
Abdullah bin Wahb عبد الله بن وهب
Abdullah father of Jabir al-Salami عبد الله والد جابر السلمي
Abdullah father of Qabus عبد الله والد قابوس
Abdullah (grandfather of Abi Dhabian al-Kufi) عبد الله جد أبي ظبيان الكوفي
Abdullah father of Muhammad عبد الله والد محمد
Abdullah (last name unknown) عبد الله غير منسوب
Abdullah 2 (last name unknown) عبد الله آخر غير منسوب
Abdullah bin Yahya bin Abi Katheer al-Yamami عبد الله بن يحيى بن أبي كثير اليمامي
Abdullah bin Yazeed عبد الله بن يزيد
Abdullah bin Yasar al-Muzani عبد الله بن يسار المزني
Abdullah bin Yasir bin Malik al-Ansi عبد الله بن ياسر بن مالك العنسي
Abdullah bin Yameel عبد الله بن ياميل
Abdullah bin Yazeed al-Ansari al-Khatmi عبد الله بن يزيد الأنصاري الخطمي
Abdullah bin Yazeed al-Khath`ami عبد الله بن يزيد الخثعمي
Abdullah bin Yazeed bin Zayd عبد الله بن يزيد بن زيد
Abdullah bin Yazeed al-Ta'ifi عبد الله بن يزيد الطائفي
Abdullah bin Yazeed bin Abdullah عبد الله بن يزيد بن عبد الله
Abdullah bin Yazeed al-Qari al-Ansari عبد الله بن يزيد القاري الأنصاري
Abdullah bin Yazeed bin Dhamrah al-Bajali عبد الله بن يزيد بن ضمرة البجلي
Abdullah bin Yazeed al-Maqzi عبد الله بن يزيد المقزي
Abdullah bin Yazeed al-Nakh`i عبد الله بن يزيد النخعي
Abdullah bin Yazeed عبد الله بن يزيد
Abdullah al-Yarbu`i عبد الله اليربوعي
Abdullah al-Yashkari عبد الله اليشكري
Abdullah bin Yaqdhah عبد الله بن يقظة
Footnotes