Asma could refer to two different names, as covered below:
Asma (1)
Asma (transliteration: Asmāʾ, Arabic: أسماء) is an Arabic name for girls (also used for boys in ancient Arabia) that is a variant of the name Wasma according to the grammarian Sibawayh (760 – 796 CE), which means "beautiful", "charming", "lovely".12 The word Asma is also the plural of the word ism, which means "name".3
Asma is also spelled Asmaa and Asmaa'. Asma was the name of the daughter of Abu Bakr al-Siddiq (closest Companion of the Prophet Muhammad

), famous for bringing food to the two of them during the Prophet's migration to Medina.
Asma is used 5 times in the Quran with the meaning of "names" (rather than "beautiful"), as in  verse 7:180:
To God belong the Most Beautiful Names, so call Him by them, and disregard those who blaspheme His names. They will be repaid for what they used to do.
There are 19 Companions of the Prophet Muhammad

named Asma (11 female, 5 male):
Asma bin Yab أسماء بن ياب
Asma bin Harithah أسماء بن حارثة
Asma bin Kharijah أسماء بن خارجة
Asma bin Khalid bin Awf أسماء بن خالد بن عوف
Asma bin Malik al-Ka`bi أسماء بن مالك الكعبي
Asma bint Ibn al-Ash`ariyyah أسماء بنت ابن الأشعرية
Asma bint Abi Bakr أسماء بنت أبي بكر
Asma bint al-Harith أسماء بنت الحارث
Asma bint Zayd bin al-Khattab أسماء بنت زيد بن الخطاب
Asma bint Salamah أسماء بنت سلمة
Asma bint Shakal أسماء بنت شكل
Asma bint al-Salt أسماء بنت الصلت
Asma bint Amr أسماء بنت عمرو
Asma bint Umais أسماء بنت عميس
Asma bint Mukharribah أسماء بنت مخربة
Asma bint Murshidah أسماء بنت مرشدة
Asma bint al-Nu`man اسماء بنت النعمان
Asma bint Yazeed bin al-Sakan أسماء بنت يزيد بن السكن
Asma bint Yazeed al-Ashhaliyyah أسماء بنت يزيد الأشهلية
Below is the name Asma written in Arabic naskh script: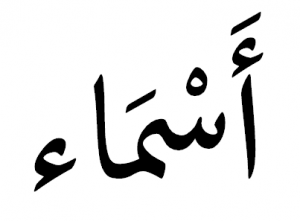 Below is the name Asma written in Arabic kufi script: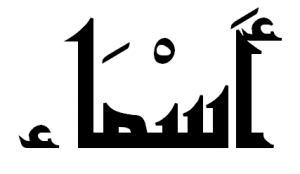 Asma (2)
Asma (transliteration: Aṣmaʿ, Arabic: أصمع) is an ancient Arabian name for boys that "fine", "brave", "courageous".45. Asma also means means "one who has small ears",67 but according to al-Fayyumi when used as a name the meaning is "fine/brave".8 Asma also means "sharp sword".9 It is also the name of an Arabian tribe.10
Asma is also spelled as Asma'. There is one Companion of the Prophet Muhammad

named Asma:
Asma` bin Mudhhir bin Riyah al-Bahili أصمع بن مُظهر بن رياح الباهلي
Below is the name Asma written in Arabic naskh script: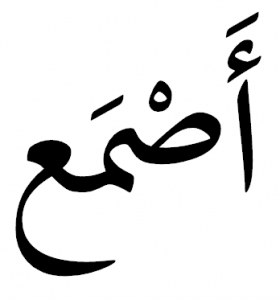 Below is the name Asma written in Arabic kufi script: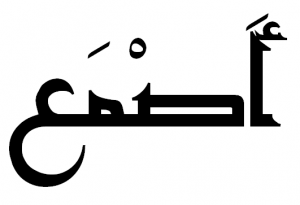 Footnotes