Salamalaikum, I really appreciate you taking the time to answer the questions posed to you with so much in depth research (my earlier ones included). May Allah reward you. To my questions, what are the signs/indications of magic done on a person or household. And if black magic is something we Muslims believe can happen? If so, is a general dua and asking for Allah's help the prescribed remedy or are there specific surahs? Jazakallah khair
Alaikumassalam wa rahmatullah,
The most important hadith we have on magic is the following:
Narrated Aisha:
that Allah's Messenger (ﷺ) was affected by magic, so much that he used to think that he had done something which in fact, he did not do, and he invoked his Lord (for a remedy). Then (one day) he said, "O Aisha!) Do you know that Allah has advised me as to the problem I consulted Him about?" Aisha said, "O Allah's Messenger (ﷺ)! What's that?" He said, "Two men came to me and one of them sat at my head and the other at my feet, and one of them asked his companion, 'What is wrong with this man?' The latter replied, 'He is under the effect of magic.' The former asked, 'Who has worked magic on him?' The latter replied, 'Labid bin Al-A'sam.' The former asked, 'With what did he work the magic?' The latter replied, 'With a comb and the hair, which are stuck to the comb, and the skin of pollen of a date-palm tree.' The former asked, 'Where is that?' The latter replied, 'It is in Dharwan.' Dharwan was a well in the dwelling place of the (tribe of) Bani Zuraiq. Allah's Messenger (ﷺ) went to that well and returned to Aisha, saying, 'By Allah, the water (of the well) was as red as the infusion of Hinna, (1) and the date-palm trees look like the heads of devils.' Aisha added, Allah's Messenger (ﷺ) came to me and informed me about the well. I asked the Prophet, 'O Allah's Messenger (ﷺ), why didn't you take out the skin of pollen?' He said, 'As for me, Allah has cured me and I hated to draw the attention of the people to such evil (which they might learn and harm others with).' " Narrated Hisham's father: Aisha said, "Allah's Messenger (ﷺ) was bewitched, so he invoked Allah repeatedly requesting Him to cure him from that magic)." Hisham then narrated the above narration. (See Hadith No. 658, Vol. 7)

Sahih al-Bukhari 6391
I conducted a study of all existing versions of this hadith. Below is a diagram of the result: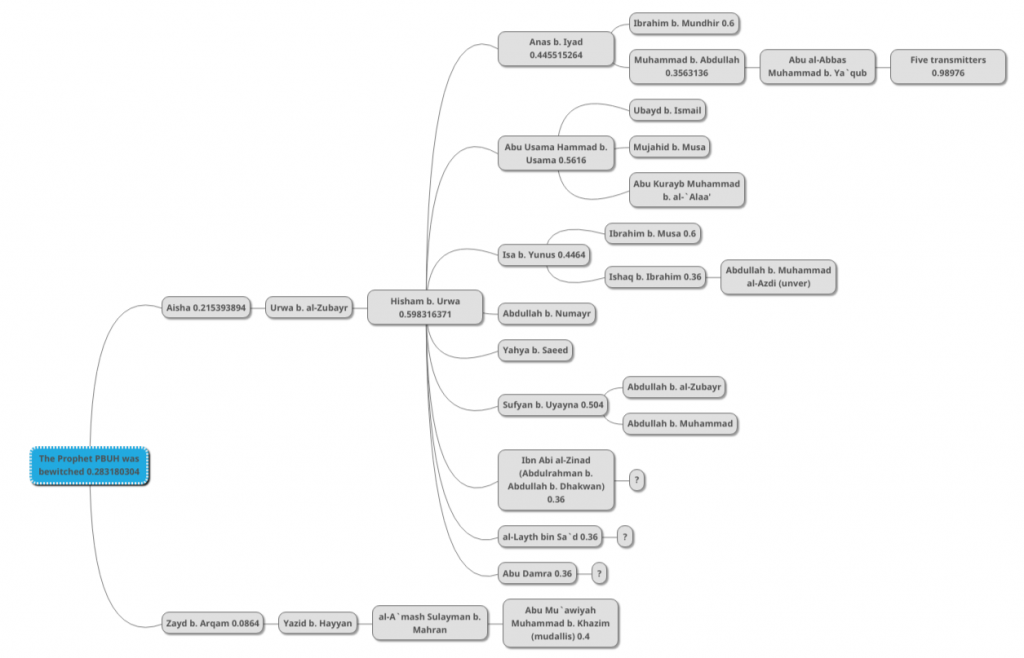 The result is that this hadith has a 28.3% chance of authenticity which makes it fall between ḥasan and ṣaḥīḥ (ṣaḥīḥ starts at 30%) according to my methodology (which I discuss here). So this hadith has a high chance of being true and authentic, although it is far below 85% which is necessary to establish a hadith beyond doubt (making it mutawātir or widely-transmitted).
So my personal opinion is that this hadith is not strong enough to worry about (too much). But it is strong enough to convince us not to completely discard the possibility that magic may befall a person in this way.
The Quran also alludes to the possibility of being harmed by magic in chapter 113:
1. Say, "I take refuge with the Lord of Daybreak.

2. From the evil of what He created.

3. And from the evil of the darkness as it gathers.

4. And from the evil of those who practice sorcery (literally "those who blow on knots.")

5. And from the evil of an envious one when he envies."

As for signs that show that someone has been harmed by magic–I have not been able to find any hadiths that mention it. Muslims should always seek medical help for their illnesses since we can never be sure that an illness has a mystical or natural basis, and since we have no guidance on how to distinguish between the two, and since we do not have many hadiths or Quranic verses about it, this tells us that magic is not something we should worry about as an everyday thing.
As for protection, the best thing would be to recite the Quran daily and strive to be a good Muslim in order to enjoy God's protection from all harms.
And God knows best.
Asking questions is temporarily unavailable. Sorry for the inconvenience.