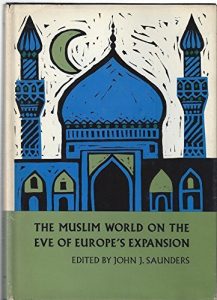 The Muslim World on the Eve of Europe's Expansion (published in 1966), at only 136 pages, is a short and enjoyable history of the Muslim world in the early modern period, with interesting articles on the Ottoman, Safavid and Mughal Empires, the Mamlukes, the Uzbeks, Islam in Southeast Asia and Africa, the remnants of the Mongols in Russia, the Indian Ocean trade and the naval struggle between the Ottomans and the Christian powers.
Many interesting scenes from history are presented in the book; the siege of Vienna by the Ottomans; celebrations in Rome on the fall of Granada, the last Muslim principality in Spain; an Italian traveler who performs the Hajj in 1503 disguised as a Muslim.
The book is a collection of excerpts from other works. Each section is introduced by the fair-minded and able British historian John J. Saunders. The book is recommended to anyone who wants to enjoy a lighthearted and non-politicized introduction to the state of the Islamic world during the rise of European power.