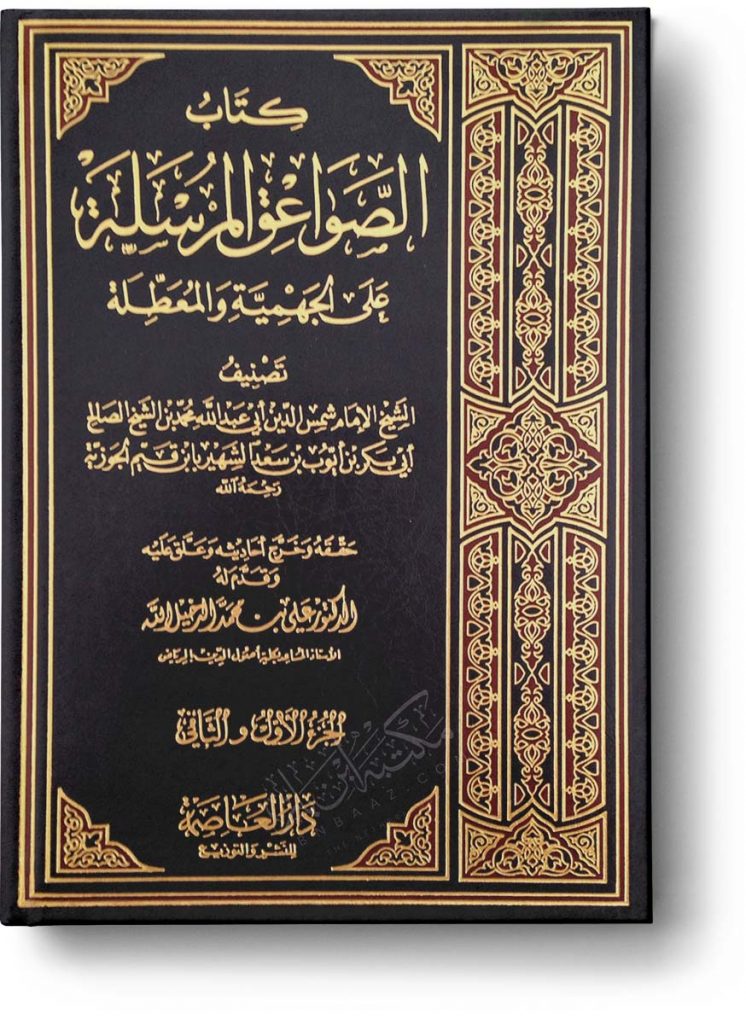 A review of Shakh Yasir Qadhi's paper "'The Unleashed Thunderbolts' of Ibn Qayyim al-Ǧawziyyah: An Introductory Essay."1
This 2010 paper by Yasir Qadhi is a study of Ibn Qayyim al-Jawziyya's al-Ṣawāʿiq al-mursala ʿalā al-Jahmīya wa-l-Muʿaṭṭila (The Unleashed Thunderbolts against the Jahmites and the Negators [of Divine Attributes]). I will focus on Ibn al-Qayyim's positions as transmitted by Yasir Qadhi.
Ibn al-Qayyim speaks against taʾwīl, the act of reinterpreting a statement in the Quran or hadith in a way that avoids its literal meaning, such as saying that when God refers to His "hand" in the Quran, this is actually a reference to His power. Ibn al-Qayyim says that there are only three possible reasons why a speaker would speak in a way that would require reinterpretation:
The speaker is not sincere and does not wish to express the clearest possible meaning.
The speaker is not knowledgeable about what he is saying.
The speaker is not eloquent and is unable to express himself clearly.
Naturally, since none of these apply to God or His Messenger

, Ibn al-Qayyim's conclusion is that there is no room for taʾwīl in Islam. But there is another possibility that he does not consider; perhaps God uses such expressions as tests and as encouragement for Muslims to look more deeply into the matter so that they can get to know God better.
They are tests in that they lead to disagreement among Muslims and in this way bring out their characters. Will they hold on to the tie of religious brotherhood and overcome their disagreements so that they can love those who disagree with them, or will they fail the test and use these disagreements as justifications for demonizing and dehumanizing their opponents? I believe Ibn al-Qayyim falls into the category of those who at least partially failed the test; his use of the phrase "Unleashed Thunderbolts" clearly implies that those who disagree with them deserve extreme divine punishment as Yasir Qadhi says.
Ibn al-Qayyim goes on to mention four "pillars of falsehood" (ṭawāghīt, sing. ṭāghūt) that he believes are the fundamental principles that are relied on by misguided Muslims (i.e. Ashʿarites, Muʿtazilites and philosophers) to destroy the foundations of religion.
The first ṭāghūt is the principle of the theologians such as Fakhr al-Dīn al-Rāzī (d. 1210 CE) that verbal evidence do not yield certain knowledge. The theologians viewed the evidence of hadith as inherently probabilistic, since in almost all cases we can never be sure if the information was transmitted with 100% accuracy. They also viewed the process of interpreting the Quran and hadith as inherently probabilistic since we cannot always be sure that we understood the exact meaning that a verse or hadith statement is meant to convey.
Ibn al-Qayyim argues against that and says if that was really the case, life would become impossible since we could never be sure of the meaning of the statements that those around us made. Ibn al-Qayyim's arguments as mentioned by Yasir Qadhi are all polemical and unconvincing.
The second ṭāghūt is the principle of the theologians that intellectual evidence takes priority over scripture when the two are in conflict. Ibn al-Qayyim relies on his mentor Ibn Taymiyya's arguments against this principle, saying that reason and revelation can never be truly in conflict. Whenever reason and revelation appear to be in conflict, it is the deficiency of human reason that is to blame. Therefore when Aristotelian logic seems to support a truth that goes against revelation, the deficiency is in that logic.
This point is well made since the history of Islamic theology is full of theologians who believed that they had absolute logical proofs for their doctrines that were later proven to be logically invalid. Whenever we believe that we have discovered a fact that clearly goes against revelation, it may only take a decade or two before someone else shows us that the fact and revelation are actually not in conflict (as in the case of evolution).
Strangely, Ibn al-Qayyim goes on to argue that Hell is not eternal since it serves God no purpose to eternally punish a temporal creation. As I argue in my essay A Quranic Phenomenology of Atheism, the reason why eternal punishment may be necessary is that by disbelieving in God, a person stands up to the Infinite and asks Him to do His worst to them. It can be said that here Ibn al-Qayyim breaks all of his own principles: he ignores the literal meaning of the Quran and hadith, he prefers his own reason over revelation, and he breaks with the views of the Companions and the Salaf.
The third ṭāghūt is the concept of majāz (allegory) that is used by the Ashʿarites. Ashʿarites claim that the Quran uses allegorical language, for example when God refers to being "above" the Throne, this is merely an allegory rather than a reference to God having a direction of "aboveness" in space (since God is not in space). Ibn al-Qayyim strangely argues that statements such as "Zayd is a lion" are not actually allegorical because anyone with a sound mind can immediately understand the meaning that is meant by it; namely that Zayd is brave.
He argues that there is no textual indication that God's attributes should be interpreted metaphorically. He says that it is demeaning to God's exalted nature to suggest that attributes such as His being "above" do not have a literally meaning. He claims that all of the Companions and the Salaf agreed that these attributes should be interpreted literally.
The fourth ṭāghūt is the principle of the theologians that the traditions of the Prophet

can only yield probabilistic knowledge. Ibn al-Qayyim's view is that singular (āḥād) narrations (which lack multiple supporting chains) can yield certain knowledge when there is supporting evidence. I believe that Ibn al-Qayyim exaggerates the position of his opponents, since they too acted upon singular narrations despite acknowledging their probabilistic reliability. His act merely implies that his opponents are using an invalid approach to hadith–despite the fact the end result is largely the same. It is therefore merely or largely a polemical attack meant to lump together extreme rejectors of hadith with the Ashʿarites.
In his conclusion, Yasir Qadhi mentions that Ibn al-Qayyim's attack is one of the most sophisticated ones ever launched against the Ashʿarites. He calls for reassessing common views of Ibn al-Qayyim and Ibn Taymiyya as shallow literalists. I agree that despite the failure of many of their attacks and their polemical style, they were worthy opponents of the theologians who must be taken seriously. Recent Western scholarship has continued to support this thesis, a good example being the 2010 book Ibn Taymiyya and His Times.
Footnotes