Uthail (transliteration: Uthail, Arabic: أثيل) is an Arabic name for boys that means "noble", "highborn", "kingly". It is the diminutive of Atheel, which means "noble", "deep-rooted".12 Uthail is also mentioned as the name of a place near Medina that has a well and that belongs to the tribe of Jaafar bin Abi Talib (cousin of Prophet Muhammad

).3 Uthail also means "the manbit of arāk trees"4 (arāk is the name of the tree from which the miswāk is made, scientific name Salvadora persica. Manbit means "the place from which something grows"), perhaps meaning an area in which arāk trees can be found.
Uthail is also spelled Othail, Uthayl, Othayl, Usail and Osail.
Below is the name Uthail written in Arabic naskh script: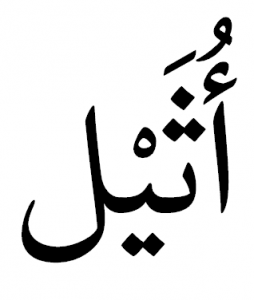 Below is the name Uthail written in Arabic kufi script: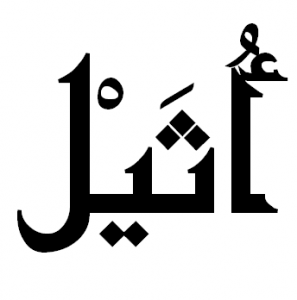 Footnotes